Hi,
having some time I started to install BC4RHV2. I thought it should be possible to have both version (V1 and V2) running in parallel. Each installs in separate folders and also it does with the data stuff.
So I just disabled BC4RHV1 and closed Rhino before installing BC4RHV2. After installation, Rhino throws following message when starting it.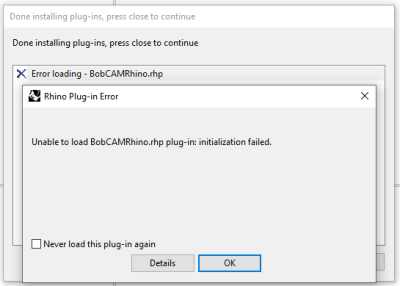 Looking into the Plug-In List, there is no BobCAM at all: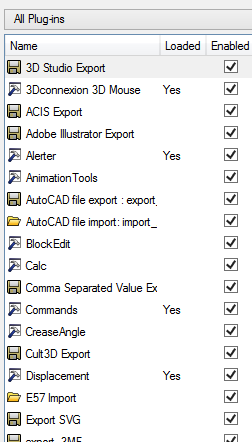 So I tried to uninstall BC4RhV1 (leaving Data Folder). But still no BobCAM plug-in is shown.
Next I run the install process again using the Repair mode. Had no luck at all. Starting Rhino it always detect a new plug-in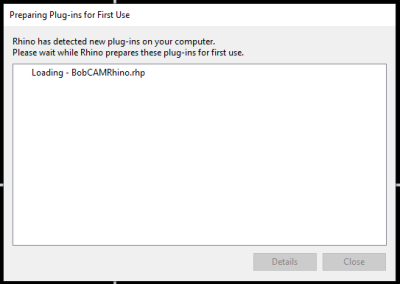 ending in the error message shown first in this topic.
So I uninstalled BC4RHV2 having no BC4RH at all. Just the standalone versions V32, V33 and V34 remains.


Starting Rhino again, the error message are gone. Well, at least this worked

Yes, you know already the next step: installing BC4RHV2 again.
Installation did the way it should. Sadly, loading the plug-in fails with same behaviour explained above. BobCam still isn't in the list of plug-ins

My last decision was to uninstall BC4RHV2 and reinstall BC4RHV1. No chance. This also didn't work. No BobCAM plug-in listed, failure during Rhino start and at all having no BobCAM in Rhino anymore

Hope, BC can help out of this.
Bye, Harald